Dreamy Cloud Inspired Cake at Westin Excelsior
There are some cakes I wait years to make. E's was one of those. We'd met almost a decade ago as part of the Florence ex-pat scene. When she came to say her long awaited wedding was happening, I knew we had to come up with the perfect cake.
The wedding was set to take place on the rooftop terrace of Florence's Westin Excelsior. Like the couple, the style was incredibly elegant, clean, romantic and understated. We also wanted some gorgeous detail and drama in there too.
Many of the guests were Italian, so a tiered or "American Style" cake was going to be a real surprise. Of course the real surprise had to be the flavor.
Many Italians have the impression that "American" cakes are heavy and dry. However, when I started focusing only on cakes over a decade ago, the person I most wanted to please was my Italian mother-in-law. So the real surprise of all of my cakes, is that they are my own creations of traditional sponge and Italian flavors and creams. (MY MIL is a huge fan!)
I knew right of the bat we were going to make all the Italian guests smile.
E chose a moist vanilla cake, with silky raspberry coulis, rich chocolate mousse and dark chocolate pieces. Its actually a flavor I wanted when I was a kid and didn't get, so I recreated it decades later in a grown-up version to give myself the memory I wanted.
Next came the details. E's style is elegant and understated. Her future husband works in the field of optometry, so we wanted details that would be worth looking closely for.
Together we decided on an all white design wrapped in rich dreamy oversized sugar ribbons. Beautiful from a distance. Since the wedding was going to have a backdrop of Tuscan Clouds, I designed the tiers with a painted white on white texture mimicking the dreaminess of the city skyline. The kind of thing you have to go up close to see.
To finish off the design I added simple bouquets of sugar roses and ortensia at the seams where the ribbons closed.
In the end we ended up with a tall, clean, elegant design for E's dream wedding. And it was such and incredible honor to create this cake, for such an amazing couple.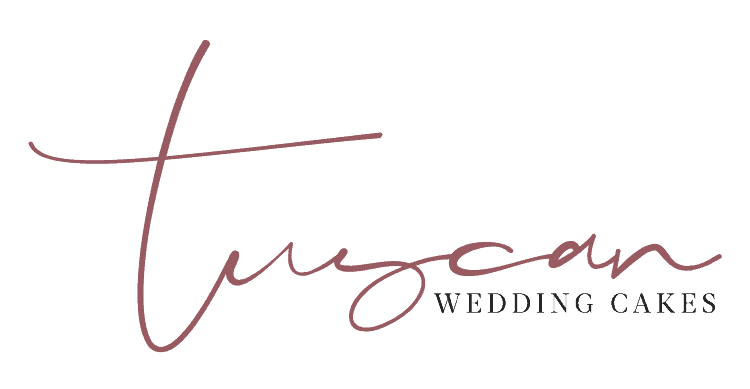 Tuscan Wedding Cakes, Italy's premiere wedding cake designer, creates spectacular designs for destination weddings and events in Florence, Tuscany, Siena, and throughout Italy.
 © 2018 TUSCAN WEDDING CAKES